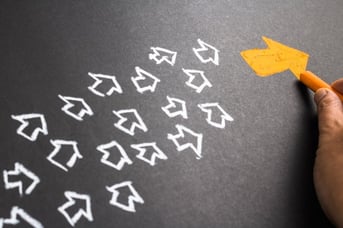 Google Docs and Dropbox increasingly play a role in the operations of businesses, nonprofits, and small governing boards. These online services allow organizations to store files of all types and distribute them to members while eliminating paper from their processes.
These services can be a good first step in transitioning from traditional, paper-bound board meetings, but they don't offer the full suite of features needed to effectively govern a business or public entity. Instead, these services can be used to great effect in tandem with a more feature-rich, board meeting-specific solution.
Meeting software, like eConvene™, offers functionality that is more important to districts, including additional permission levels, protected privacy from data mining, and the ability to quickly search and reference data from all previous board meetings.
School boards following best practices use online meeting management software in addition to web-based document services to leverage the built in workflow like board meeting packet automation, attendance and vote tracking, access restriction to confidential materials, easy and secure distribution, and posting to a school board webpage for public consumption.
Let's take a closer look at the limitations of Google Docs and why the addition of a paperless meetings management software can help improve your meeting process.
The Limitations of Google Docs as a Comprehensive Meeting Solution
While Google Docs offers a cost-efficient option with user friendly functionality, its lack of meeting-specific features limits its effectiveness as a stand-alone solution.
Free services like Google Docs allow you to control the viewing of files for external audiences, but your only option is to share everything or nothing.Your board may need to share some information with the public and keep other information confidential.
For instance, your board may want to share updates on levy funded capital projects without revealing confidential information during property acquisition negotiations. Google Docs can't provide that functionality within a single document. With select paid software like eConvene™, you can manage internal information while still providing the appropriate level of access to the public.
Google Docs can also make it difficult to access past board decisions that come up in later meetings. Archived files, particularly PDFs, can be difficult to search. eConvene™ board meeting management software provides easy keyword search, so you can easily pull up archived documents.
Using a Board Meeting Workflow Solution to Streamline Your Process
Paperless board meeting solutions like eConvene™ are specifically designed to facilitate decision making, allowing board members, decision makers and district staff to focus on meeting issues, rather than managing software and documents.
eConvene™ gives board members, administrators and district leaders the confidence that they have what they need to move on decisions that matter, saving time, money and sanity.
Meeting-specific features include a customizable public site, easy keyword search, agenda management and minutes builder. With an intuitive, educator-designed interface, members can access these features regardless of their level of technical expertise.
eConvene™ is the lowest cost meeting management software available to school districts: with no per user or storage fees, all your users can have access for one low cost. With all of these features built in, paperless board meeting software saves both time and money, cutting back on the office materials, administrative support and person ell time needed to effectively manage a board meeting.
Contact us to schedule a demo of eConvene™, we'd be glad to show you all it can do for your board.