"We invented what is now a full-fledged national performance management system for urban schools across the country," said Dr. Michael Casserly, Executive Director of the Council of the Great City Schools. "The Council of the Great City Schools saw a major need to provide a tool which would allow our members to find the lowest cost and highest service level providers on the non-instructional side. The metrics we created and the data analysis tools which followed filled this gap." ActPoint KPI is an online data and resource center that allows districts across the nation, regardless of location, to access guidance and performance information on key performance indicators, as well as visually manage their own performance.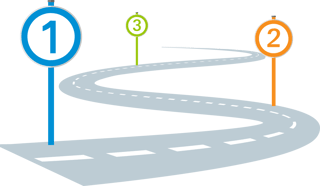 To meet the primary challenge of creating KPIs that are impactful in an individual department but measurable across the country, CGCS formed technical teams to vet proposed KPIs, and then applied six-sigma methodology to define them. After several rounds of testing and adjusting, CGCS identified over 500 KPIs that school business and operations professionals can use to measure, compare and manage their performance effectively.
CGCS recommends a framework for analyzing data in an operational program that is very similar to what districts routinely employ for instructional programs.
Step 1:

Measure Your Results

Record performance on KPIs in the current year, as well as previous years. At least three years of historical trend data is optimal when comparing annual data.
Step 2:

Compare Your Results

Gather the performance of peer districts (for example, by student size, geography or poverty rate). The search can be local, state-wide, or national because school districts across the country face similar problems, regardless of proximity to each other. Using comparative performance data enables districts to identify peers who have already solved a problem they might be experiencing, and to learn from their process.
Step 3:

Manage for Results

Use the peer-to-peer data to identify places where the district has strengths and weaknesses. Leaders can then collaborate to identify areas that, if improved, will make the biggest impact on the short and long term goals for the district, and set transparent goals around performance so that employees have a clear, measurable result to achieve each year. An important aspect of this step is to not "set it and forget it": engage in routine performance analysis to measure the progress towards transparent goals, and adjust course along the way.