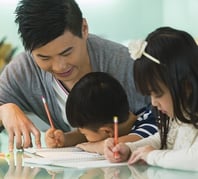 Parent Engagement Requirements, End of Year Funds, and Using Federal Funds for Parent Notices
TransACT hosted a live webinar on May 26th at 10:00 am PT / 1:00 pm ET with Dr. David Holbrook, former Wyoming Federal Programs Director, where he discussed all of TransACT's Parent Notices Collections (ESSA, IDEA, Section 504, General Education) and the appropriate funding sources that can be used to purchase each collection. This webinar was recorded and is available on-demand.
In this webinar you will learn:
Ways to satisfy complex federal and civil rights requirements under ESEA (ESSA), Section 504, IDEA, and other school-wide categories

How to reduce the overall cost of civil-rights compliant communication in your district

Which funding sources are allowable to be used under ESSA and other federal funding sources, or

end-of-year funds that are expiring
Complete the form on this page to access the on-demand webinar to learn more about the applicable funding sources for a TransACT ParentNotices subscription.
TransACT ParentNotices is an annual software subscription to translated federally required parent notifications and parent engagement guidance, which supports compliance with ESSA, Civil Rights, and more. Send forms to parents and families in a distance learning environment, to their preferred device.
To learn how TransACT ParentNotices supports federal parent engagement requirements, click here.