When it comes to non-academic performance management, there are many ways that data can help districts gain efficiency and improve processes. While you may not have thought about measuring performance data as part of the equation for district success, data from departments like transportation, maintenance and operations, food service, and technology can produce important information about how schools and districts operate, which drives the ability to discover and communicate efficient best-practices. When time or money are saved, this type of non-academic performance management has the ability to create successful student outcomes by funneling more resources back to the classroom.
Measuring this data and tracking operational performance as key performance indicators can help leaders gauge cost and service level promises and provide guideposts to make measurable improvements. A Key Performance Indicator (KPI) is a measurable value that demonstrates how effectively an organization -- or school -- is achieving key business objectives. In education, this could be the age of a school's computers, bus fleet or infrastructure, or even the number of full-time employees servicing a building by square footage. Measuring KPIs ensures that money is spent effectively on district operations, and tracks the extra funds identified by increased efficiency.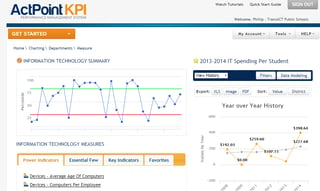 Tracking KPIs not only keeps every department running smoothly, but recoups money from inefficient operational use and redirects it back to students in the classroom. Using KPIs created by CFOs and COOs from around the nation, ActPoint KPI business intelligence tools will help you get started.
The benefits of KPI benchmarks
A clear commitment to measuring financial and operational data can help cut costs while improving day-to-day operational practices, comparable to how committing to student data can help advance teaching methods and student achievement. The key is helping district business leaders think more strategically about how to improve processes with the goal of providing the highest service level at the lowest cost.
What to measure
When it comes to what districts should measure, there are several key performance indicators to look for:
Utilities: District leaders can assess their utility bills and consider seeking better rates from their service providers. For example, a productivity results series published by The George W. Bush Institute's Education Reform Initiative shows how an Indianapolis Public School District was able to develop a budget, track expenses, and discover utility savings opportunities with its energy conservation program.
Transportation: Reviewing bus routes can save a good deal in transportation costs over time. Another example from the same study shows how Orange County Public Schools used two years of data from the KPI system to discover an excess of school busses. The district sold 280 buses at auction, generating one-time revenue of $1.7 million and saving an additional $90,000 in maintenance costs. What's more, the district consolidated a number of underutilized bus routes, which resulted in a savings of about $1.9 million.
Supplies: Measuring data from past requisition processes for textbooks, computers, desks, and other essential supplies and equipment can reveal improvements to processing times and associated costs.
Food and custodial services: Delving into staffing costs and supply practices in food services and custodial departments can reveal opportunities for improvement, training, and even cost savings.
ActPoint KPI: Harnessing the tool and achieving results
TransACT® has created a tool specifically for district leaders, providing financial and operational benchmarks which can help districts track their data and save money over time.
ActPoint KPI includes non-academic visual benchmarking software that allows school districts to allocate resources to the right places and save money. This cutting-edge software includes surveys, calculators, dashboards, and predictive modeling tools that help project improvements in business, operations, IT and HR departments in districts anywhere in the nation.
This unique tool includes robust data analysis features such as:
Web access: Dig into your data and reveal insights anytime and anywhere with 24/7 availability.
Predictive data modeling: Test your strategies for the future by fine-tuning individual data points, and using data modeling to envision how results affect your staff and board.
Budgeting and forecasting: Discover important insights to help guide your budget and anticipate operational changes.
Reporting: Easily create custom, sophisticated reports for sharing and archiving.
More than just a data analysis tool, ActPoint KPI is also a communication and presentation resource. The benchmarking and comparison data from relevant districts helps users communicate needs to boards and peers in a way that is relevant and comparable.
When it comes to school district operations, KPIs offer important insight to district operations and expenditures. Obtaining the right data not only reveals current operational costs, but can help leaders determine how to best use their resources, and put more money into the classroom. Learn more about which KPIs drive optimial operations in your district by downloading our benchmarketing report.