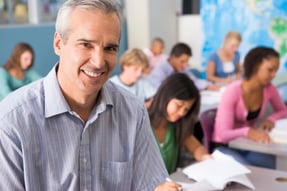 As school districts across America grow in population and the country itself becomes more diverse, the need for enhanced parent communication increases. A one-size-fits-all model cannot work when ensuring all students and parents receive pertinent communications in a language they can understand.
In this context, it's easy for processes and costs associated with managing multi-lingual communications to spiral out of control.
School-to-home communication is a particularly important area for school districts because EL students and parents have civil rights related to the student's access to an equitable education, and laws such as the Every Student Succeeds Act require detailed communication to parents in certain circumstances. Managing the compliance, translation, and editing components of parent communications can be daunting when districts need to be confident that parents are receiving accurate and timely information about their child's education.
To remain compliant with the Civil Rights Act of 1964, districts must provide parent notifications to all students' families regardless of race, color, national origin, or language. Yet, some districts don't recognize the need to incorporate a parent notifications strategy for English as a Second Language (ESL) and English Learner (EL) families. Many don't even realize it's a legal requirement.
In cases where school districts do recognize the need for a parent notification strategy, many manage the process internally, allocating staff and other resources for writing and translation. Others choose to outsource their parent communication plans.
Wherever your district falls on this spectrum, you must assemble the right resources for creating an effective multi-language parent communication strategy. These components include writing parent notifications, legal review, document translation and distribution.
Let's look at the various ways your district can manage its parent communication strategy for ESL students.
Managing Parent Communication Internally
If you choose to manage your parent communication strategy internally, you must determine the most efficient way to write, review, translate and distribute parent communications. This could mean hiring staff members to manage each individual component or using other resources already available to you.
Your strategy will likely depend on the size of your district and your budget.
Some small districts only need to write and translate documents for a single language and can rely on a trained and certified staff member. If your district only needs Spanish language translation, you could even allocate resources from foreign language faculty.
However, you must keep in mind that while these faculty members may be native speakers, they must also be adequately trained to craft parent notices. This training requires additional time and expense, which could take faculty members away from their regular responsibilities.
Midsize districts may hire a single person to focus on single language translations and supplement that hire with contractors who specialize in less common languages.
Larger districts where multiple languages are spoken by students and families may be able to afford to hire multiple translators to handle the parent notifications. These districts may even have the resources to employ a translation department working exclusively on translation and interpretation.
Outsourcing Parent Communications
While you may not have previously considered the redundancy and costs related to parent noticed under ESSA, outsourcing the process is a cost- and resource-efficient way to create compliant parent communications.
There are various potential options for outsourcing parent communication, including outsourcing the work to translation contractors. But, the most effective means is working with a partner organization that specializes in the creation of parent notices. Working with an experienced partner removes the burden of finding and vetting contractors and offers a one-stop shop for federally required parent notices and district-specific announcements.
TransACT® helps your district remain compliant while prioritizing the needs of your students and their families by providing unlimited, district-wide access to pre-translated, legally reviewed parent notices.
Learn more about managing your district's communication needs and discover which strategy is best for your district by downloading our latest eBook, Creating a Compliant Parent Communication Strategy in Multiple Languages.