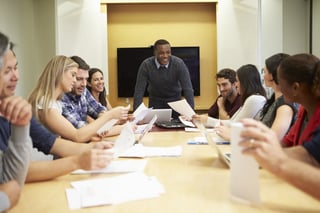 Performance goals for school business officers continue to rise as expectations for return on investment (ROI) and student achievement grow – even as school funding decreases. Due to these stringent demands, accurate performance measurement and operational insights provide more value than ever for managing budgets, reducing costs and increasing operational performance.
Tight budgets and limited resources hinder the efficiency of internal performance tracking. However, using a business intelligence or performance management system enables school business officers to gain insight into expenditures, identify inefficiencies and benchmark progress against peer districts in key areas including finance, operations, human resources and information technology.
Measuring Performance and Strategizing for the Future
Using management practices, like the measurement of Key Performance Indicators (KPIs), allows school business officers to measure year-over-year performance and compare key metrics against other districts nationwide. Business officers can use the system to import their school's data and identify opportunities for strategic cost reduction through easy-to-use charts and reports.
With effective performance measurement, business officers can gain meaningful insight into how to budget more effectively and forecast changes in operations. These insights create greater financial efficiency and put more money in the classroom.
Performance management also allows business officers to add individual data points and test strategies through predictive modeling. This functionality clearly illustrates performance projections, providing technology useful in budget planning sessions for staff and school board members alike.
Achieving Operational Efficiency
Using performance management tracking to budget effectively and increase operational efficiency can help to both improve academic outcomes and eliminate sunk costs. Key metrics to track include:
Custodial Workload. Measuring custodial workload (square feet worked per custodian) can help business officers determine the proper custodial staffing levels and achieve budget efficiency.
Paychecks Processed per FTE per Month. Examining the payroll process can provide business officers insight into areas where automation or technology may streamline processing.
Food Service Costs as a % of Revenue. Districts that keep food service expenses lower than revenues can build a budget surplus for reinvestment back into the program – including capital replacement, new technology and other improvements.
Transportation Costs. An older fleet of busses costs more to operate and maintain. More specifically, school data shows that when a bus is just one year younger, the cost-per-route of that bus is reduced by $100.
Closely evaluating operational metrics with a performance management system allows school business officers to determine how to best allocate resources and increase operational efficiency. Effective use of these tools improves student outcomes and helps eliminate risk of budget shortfall.