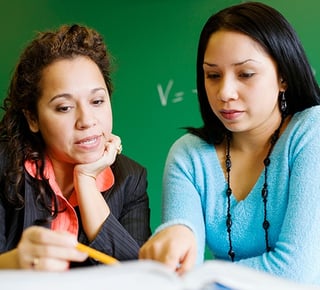 As an education professional, we understand that you are committed to communicating effectively with your students and their families to support student success. Not only that, you're aware of the legal obligations of presenting information in a language that all parents understand, including the parents of English learner (EL) students. After all, your goal is to build trust, share information, and show that you care about all students in your district — regardless of which language they speak.
In certain situations, hiring an in-house translator can help a school overcome low-risk communication challenges, such as notifying parents about class field trips or certain student programs. But, if you need to implement a working multilanguage communication strategy throughout your school or district, adhering to state and federal law is of paramount importance.
One point of confusion is related to translators and interpreters. Interpreters — who are often employed for specific, situational, in-person conversations or emergencies — are tasked with interpreting spoken communications from one language to another, usually in real time. On the other hand, translators work to transcribe written documents into a new language and can help maintain proper compliance with written notices and educational communications.
When it comes to high-stakes parent notices and important government-mandated education communications, an untrained in-house interpreter without educational or technical expertise simply isn't enough — and the risks involved aren't worth it.
Below, we'll outline a few hidden translation risks of using in-house, generic, or volunteer translators. Consider these points when navigating your path toward compliance, and avoid these pitfalls.
Lack of expertise
Unlike a professional translator or compliance partner, in-house translators likely aren't experts in the field, nor are they trained by the American Translators Association (ATA) or aware of federal compliance with the Every Student Succeeds Act of 2015 (ESSA), the Individuals with Disabilities Education Act (IDEA), or Section 504 of the Rehabilitation Act of 1973.

Translators who do not specialize in education can miss the subtleties and nuances of communicating with parents. In-house translators must be available to provide written translations for documents that are not vital written communications, such as school newsletters, announcements of bake sales, etc. However, untrained, in-house translators should not work on legal, policy, or compliance communications due to the intensive time involved and potential risks to the district in case of inaccuracy. In short, you need experts to communicate legal and policy-related issues in a multilanguage environment.
Inconsistent quality
When using in-house translators, your messaging and quality can vary from school to school. Furthermore, finding quality translators in all the languages you need in your district can be difficult. When this is the case, schools resort to technologies such as Google Translate, which can deliver inconsistent and confusing results.
Civil Rights guidance indicates that machine translations, such as those provided by Google Translate, do not meet translation quality requirements unless the translation is reviewed and adjusted by a qualified, trained translator.
Learn more about TransACT's ParentNotice Solutions.
Some districts consider asking parent volunteers or bilingual teachers to translate on an ad hoc basis. However, using informal, untrained, or volunteer translators or interpreters in a school district setting is illegal. Civil Rights compliance guidance requires that translators and interpreters be trained in translation and interpretation (ideally, ATA-certified), and also be familiar with context-specific vocabulary.
Greater chance for error
Machine translation apps like Google Translate have been known to make egregious errors when translating, as it's impossible to take context into account. Even with human translators, there exists the risk that different individuals will translate the same message in multiple ways. Generally, untrained translators and interpreters are more likely to overlook the context of education compliance, increasing the error margin.
For example, a "make-up day" is a common reference in education, referring to a day when a student compensates for an absence, snow day, or other missed school day. However, an untrained translator or

machine translation app

may translate this literally as a day of applying cosmetics — far from the actual meaning.
Another example is the phrase "providing accommodations." To a translator without ATA certification or technical experience in education, this might be translated as "providing housing or hotels" rather than adaptations for special needs, disabled, or EL students. An experienced education communicator would already understand how to communicate regarding learning accommodations.
When working with translators, previous experience in education communication is highly preferred. At the very least, a working knowledge of the latest and best tools in federal compliance will help keep districts and schools operating efficiently and focused on student achievement.
It's not enough to simply ignore the laws until something goes wrong. Instead, focus on creating the capacity to communicate with students and families in their preferred language.
Avoiding these risks is important, but you don't have to do it alone. Instead, choose a compliance partner — a service that is not only well-versed in federal compliance for education but also committed to the educational mission of serving EL students and their families.
TransACT can assist with any school district's translation needs to ensure compliance at both state and federal levels. With more than two decades of service in the industry, TransACT offers a full content library of parent notices related to the Elementary and Secondary Education Act. The library of notices is updated immediately following amendments to the law and legally reviewed by federal programs experts.
Learn more about how the TransACT suite of solutions can enhance your educational compliance strategy.