By David Holbrook, Keja Whiteman, with contributions from Jenn Runs Close To Lodge
As part of our commitment to provide school district administrators with resources and guidance on federal program compliance and administration, we regularly publish blogs featuring guest writers. We are honored to feature a co-written article between TransACT Executive Director of Federal Programs and State Relationships, Dr. Holbrook, and his colleague Keja Nokomis Whiteman of KW Consultants LLC, with contributions from middle school educator Jenn Runs Close To Lodge.
Keja Nokomis Whiteman is an enrolled member of the Turtle Mountain Band of Chippewa Indians. Keja started her career as a K-12 school social worker and subsequently spent over twenty-five years working to support education, infrastructure and healthcare in Tribal communities. Jenn Runs Close To Lodge is an enrolled member of the Oglala Lakota Tribe and has worked in American Indian education for 21 years.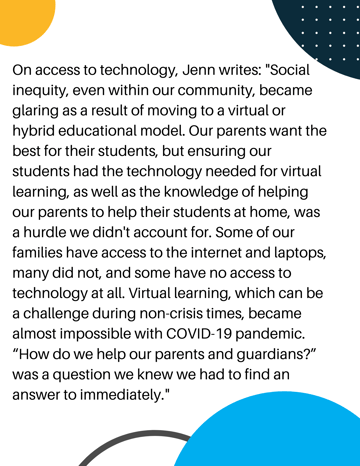 The Coronavirus pandemic, which hit in March of 2020, caused significant disruptions to K-12 education across the country. While these disruptions were felt everywhere, they highlighted existing inequities for specific student subgroups. Those existing inequities were exacerbated or intensified to the point where, in many cases, it became impossible for some students to participate in the educational opportunities offered through remote or distance learning. American Indian and Alaska Native students are one of those populations that have experienced more pronounced negative impacts to their education from this pandemic. It is equally concerning how the pandemic has exacerbated existing inequities in health care services available to American Indian and Alaska Native populations.
Education



American Indian, Alaskan Native, and Native Hawaiian students (generally grouped using the term American Indian and Alaska Natives in this blog) – especially those who live on or near reservations or in rural or remote areas of Alaska – often reside in rural locations and high poverty conditions. The combination of living in high poverty and rural areas has resulted in pre-pandemic circumstances where American Indian and Alaska Native students often lacked the devices to access education-related opportunities. Even if devices were available, they often lacked internet access outside of school. High poverty alone often results in a lack of devices and internet access. In many rural living situations, options for internet access may be non-existent. The combination of poverty and rural living often resulted in more extreme disruptions for the American Indian and Alaska Native student population when districts moved to remote learning or some variety of hybrid scheduling where in-person education was limited to one to three days a week. With a lack of devices and often no access to the internet, drastic and often creative solutions remain needed in many places.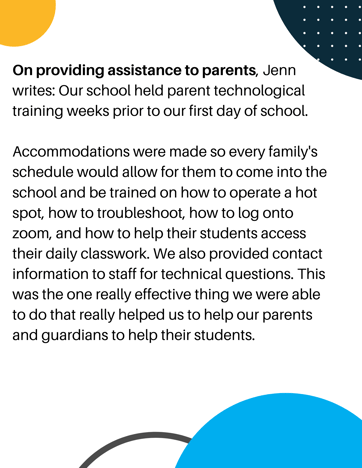 One of the innovative solutions to the lack of internet access is to purchase mobile hotspots. These hotspots can be given directly to students or placed on busses parked for hours at a time in areas where students that need internet access live. If no cell phone service is available, lack of internet can still be a problem despite these creative solutions because mobile hotspots often require cell phone service to provide an internet connection.
Another hurdle that appeared with the move to remote education was parents and guardians' need to become ad hoc teacher's assistants and technology experts. The challenge for parents and guardians is to provide direct assistance to educate their children and be responsible for connecting students to educators using video-conferencing software. For parents and guardians in rural or remote settings with no experience with a video-conferencing platform, it was a concern that schools and districts needed to address.
Where there is no cell phone service, providing internet access for remote learning becomes even more complicated. Some districts have resorted to printing packets of schoolwork and either requiring parents to pick them up or have delivered them to homes. One American Indian district's solution, described in Education Week, is to deliver flash drives with video recordings of teachers delivering content along with paper schoolwork packets to those students that lack cell phone service.
Another complicating issue in many rural locations, including American Indian reservations and Alaska Native villages, results from other infrastructure deficits. Some homes have no electrical service and may rely on generators for any electricity they may use. Students may only have limited time to access electronic schoolwork, making the delivery of paper schoolwork packets a vital solution.
Some American Indian reservations and Alaska Native villages lack street signs, street names, and in some cases, even home addresses because they use a local P.O. Box for their mail. This can cause issues related to the implementation of remote learning solutions. Barriers to using the mobile WiFi busses or delivering schoolwork packets, school-related meals, or other resources occur when districts cannot locate students' homes. Another obstacle could result when a district implements hybrid school schedules where students attend school on alternating days. This barrier is a need to create hybrid bus routes that address these changes, which can be complicated when there is a lack of street signs or street names. One innovative solution that addresses all these concerns is to use transportation routing software. Transportation routing software allows the district to identify bus pick up and drop off locations and student homes using mapping software that can drop 'pins' associated with GPS coordinates and quickly and easily create new or alternate bus routes. Check out this blog to learn more.
Health Services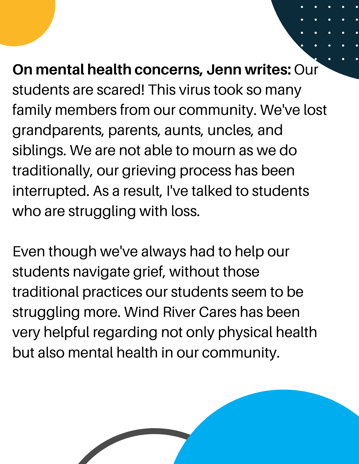 Currently, American Indian and Alaska Natives are the only racial or ethnic group federally designated as a medically underserved population. This designation comes from the chronic underfunding of Indian Health Service, which is the federal agency tasked with fulfilling the trust obligation of providing health care services for Indigenous people into perpetuity. Typically, the federal budget for direct care service (federally provided), Tribal or Urban Indian health services operated under federal contracts receive about 60% of their demonstrated need annually. Additionally, the Social Determinants of Health (SDOH) outlines challenges outside access to care that many rural, remote, and reservation communities face. SDOH includes personal, social, economic, and environmental factors that contribute to individual and population health within communities.
The impact of the Coronavirus pandemic has exacerbated the inequities of American Indian and Alaska Native health care. The most recognizable impact has been the widening of the digital divide – communities with affordable broadband access and those without access. While most Americans transitioned to telehealth services for both primary and behavioral health, people and communities without access to affordable broadband have had little to no access to health care for over a year. Alaska Native people in particular, whose rural clinics are often staffed with an itinerant workforce, also experienced lessened levels of care during this pandemic due to travel restrictions for both patients and clinicians.
One of the impacts of remote learning on American Indian and Alaska Native students has been increased mental health issues. Often due to distance and lack of transportation, a significant source of socialization for American Indian and Alaska Native students happens at school. When districts moved to remote learning, that element of student socialization was lost, resulting in a lack of connectedness and often some level of depression.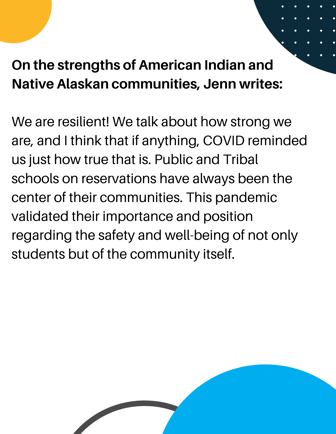 On a positive note, Indian Health Service, Tribal, and Urban Indian service units across the country have outperformed state and local public health departments in the COVID-19 vaccination rollout. Many clinics and organizations have expanded beyond Indian Health Service beneficiaries to include non-native household members, community health providers, or teachers in their vaccine programs. American Indian and Alaskan Native communities are characterized by a level of resilience due to the extreme difficulties they have had to overcome. That resilience will help these communities bounce back from the difficulties created by the Coronavirus pandemic.
Significant funding has been provided in three funding bills by the federal government to address disruptions caused by the COVID-19 pandemic. This includes about $200 billion for K-12 education and over $11 billion for Indian healthcare. Check out the paper written by Dr. Holbrook and Keja Whiteman to learn more about how to use these COVID-19 relief funds to support Indian education and healthcare.