TransACT ParentNotices supports compliance with federal Parent and Family Engagement Requirements under ESEA (ESSA), Section 504, and IDEA with expertly written and pre-translated mobile-friendly notifications that are written by federal programs experts. A subscription to ParentNotices includes unlimited, district-wide access to our federally-required notifications and parent engagement guidance. ParentNotices allows you to:
store and standardize existing forms

create new forms and automate approvals

integrate class roster data from a student information system (SIS)

send forms to parents and families on any device

collect digital signatures when required

Remind is a communication software platform that enables two-way messaging to support the engagement between school districts and parents and families as required by the Every Student Succeeds Act (ESSA). Millions of educators, students, and parents use Remind to connect with the people and resources that help them teach and learn.
"We are excited to partner with Remind in support of enabling educators to engage with parents to improve outcomes for all students. Our ParentNotices users will be able to authentically engage parents in the services and support that they are eligible for under ESEA (ESSA), Section 504, IDEA and more, while also remaining compliant with federal and civil rights laws. We appreciate Remind for making this integration simple and intuitive for everybody involved and for the impact it is having on teachers and families across the country." said Alex Jarzebowicz, CEO of TransACT Communications.

ParentNotices now supports integration with the
two-way K-12 communication platform,

Remind

.
---
What does the ParentNotices-Remind integration do?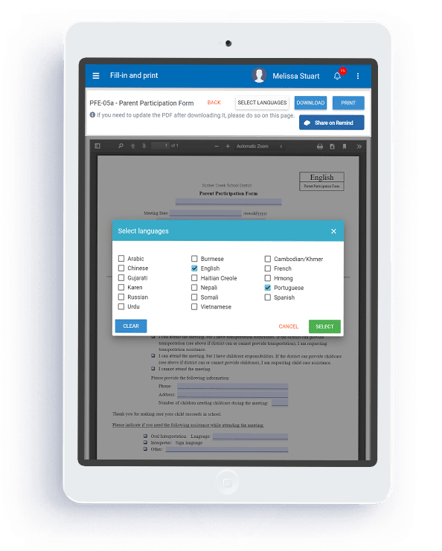 The ParentNotices-Remind integration allows educators to send translated, federally required notifications to parents using their existing Remind account. Use the Remind integration to send any ParentNotices form or notification in any language that a district subscribes to. Integrating with Remind allows districts to reach parents and families where they are most likely to respond, on their preferred device (and in the Remind application).
Leveraging Remind's capabilities facilitates improved parent and family engagement and allows for two-way communication between the sender and the notification recipient.
Adding this integration reduces the number of accounts that parents and families have to create to access critical communications from the school. Talk with a member of our team to learn more.
> New to federal Parent and Family Engagement requirements? Click here for an introduction
---
Who should I contact to activate Remind for ParentNotices?
End users with active subscriptions from their district or State Department of Education can contact support to activate the integration. Once activated, users will see a "Send with Remind" button that can be used to send any of TransACT's federally-compliant, pre-translated notices and forms to parents and families within the Remind application.
If you would like more information about subscribing to ParentNotices and the Remind integration, request a demonstration from our team.
---
How can I learn more about compliant parent engagement with ParentNotices?
TransACT makes it simple to manage parent and family engagement communication requirements.
Watch this short video on how TransACT ParentNotices bridges the language gap between home and school, delivering fully compliant multi-language parent and family engagement to any device.
---
For 26 years, TransACT ParentNotices has supported federal communication compliance (ESSA/IDEA/504) with expertly written and translated notifications. Store and standardize your existing forms, create new forms, and use our compliant notices to engage parents on any device. Leverage roster data integration, approval workflows, & digital signature collection to save time reduce errors, and make parent engagement easier for everyone involved. We are proud to serve 10+ state departments of education & 8,500 districts.
Request more information about ParentNotices here.