Tracking key performance indicators (KPIs) and using operations benchmarks to measure your district's performance can yield meaningful results. Monitoring operational efficiency promotes student achievement and effective budgeting.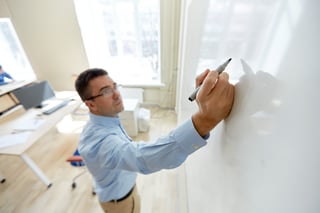 While thorough budget analysis can help your district correct inefficiencies after the fact,
it can also alleviate potential problems before they start and assist in identifying areas where changes should be made.
School districts can achieve these valuable insights regardless of size. Even small rural districts can learn valuable insights with a user-friendly performance management system.
Uinta County School District No. 1 in Evanston, WY represents a compelling example of how a small school district utilizes KPI tracking with great success. Among many uses, Uinta County leverages KPIs in its Comprehensive Annual Financial Reports (CAFR), presenting results to the school board and making CAFRs available to business, government, and education leaders, and the public through the local county library.
Evaluating School District Performance
John Williams, the Chief Financial Officer of Uinta County School District No. 1, uses KPIs to better understand how his district performs in relation to others around the country, and learn where his district can make needed changes.
"We pull the KPI information out to show how departments are doing, how we are trending and how we can make changes," Mr. Williams said.
Mr. Williams actively tracks 68 KPIs across major departments, including technology, maintenance and transportation. Major indicators range from miles between accidents (total number of transportation accidents divided by total miles driven) and average age of bus fleet to custodial workload (the number of square feet a custodian works), and average age of computers.
Positive Trends and Actionable Data
Since beginning to track KPIs, Uinta School District No. 1 realized positive trends in technology. The average age of the district's computers fell to 3.1 years from 4.6 years between the 2012-13 and 2013-14 school years, below the median age of 3.8 years.
"The KPIs in technology show us that we have been investing a lot in tech," Mr. Williams said. "We have a one-to-one initiative for getting computers to every student and use those indicators to show how we're doing."
Additionally, Mr. Williams and the Uinta School District No. 1 look at custodial workload in a way similar to the Anchorage School District. Mr. Williams examines cost per square foot and cost per employee to identify which schools in the district run efficiently and which might be overstaffed. This analysis gives Mr. Williams vital insight into which areas of the district can be streamlined in the event of budget cuts.
Food service benchmarks also revealed actionable data to Mr. Williams. After reviewing benchmarks, Mr. Williams realized that Uinta School District's cost per meal was much higher than other comparable districts. This realization spurred a discussion about how to improve food service efficiency, with fee structure changes currently under consideration.
Download the 2016 Performance Measurement and Benchmarking Report to learn which key performance indicators the leaders in public schools around the nation are measuring to generate the highest impact on their districts.