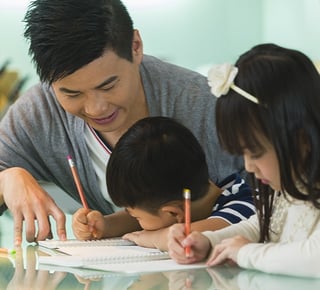 Running a school district is not without challenges. In addition to the standard dynamics of running a large organization, administrators have the responsibility of communicating across diverse languages to promote student engagement and retention, all while remaining compliant with civil rights and federal education laws.
Combined with the fact that English Learner (EL) student populations are increasing nationwide and transforming the standards of clear communication for both schools and families, the list of to-dos can seem never-ending. From hiring and managing faculty, to promoting student engagement and retention, to adjusting for updated federal and state laws, there's a lot to juggle and a lot at risk.
In light of the pending transition from No Child Left Behind (NCLB) to the Every Student Succeeds Act (ESSA) of 2015 (the latest reauthorization of the Elementary and Secondary Education Act of 1965), districts are waiting to see what will change in terms of federal and state requirements. However, it is certain that Civil Rights laws and legislation supporting EL students will remain top priorities. Those at the state level will still have the challenge of getting hundreds of districts to accomplish federal compliance and remain accountable.
Streamline parent notices
School districts, charter groups, and states generally don't spend time creating a comprehensive strategy for communicating with parents who speak different languages. Therefore, the strategies consist of one-off translations, file storage, paper copies, or online storage. This creates an enormous burden for time in upkeep, maintenance, and distribution, and also increases the district's risk for non-compliance with Office for Civil Rights and Department of Justice requirements for Limited English Proficiency (LEP) students and families.
A parent notice solution consists of standardized, routine communications that go out to parents and families, written in languages they can understand to promote engagement as they communicate important updates about school policies, details about field trips, required parent meetings, and even Individualized Education Programs (IEPs). These communications essentially perform double duty and help districts to achieve compliance by providing evidence of certain district program implementations. By leveraging a parent notice solution, districts can chose specific collections they need or are interested in, from health and medical communications, to information about school services, IEP meetings, and other impactful notifications, in English and any other language they need.
Avoid these common pitfalls that lead to noncompliance
Often, states and districts lack the time or awareness to implement parent notices into their communications plans. A few reasons for this include:
Lack of awareness. The fact is that, with so many other obligations, pressures, and daily requirements, a district may be unaware of the need to maintain a current, compliant parent notification system. This is especially common in districts that experience frequent turnover where personnel may be unaware of the specific federal education requirements, or when the language needs within a district are constantly changing as student demographics adjust over time.
Perception of compliance and or interest in maintaining status quo. Districts that prepare and distribute parent communications leveraging internal resources often have a misconception that the content, and most importantly, the use of the documents, is aligned with federal law. Unless the documents have been legally reviewed and updated on a regular basis to comply with shifting federal guidance, and staff trained on when and how to use certain communications, the documentation and process are at risk of being out of compliance. In many cases, districts also do not grasp the true cost associated with building, reviewing, and maintaining parent notices communications and processes in-house, and thus are not compelled to optimize their process to reduce costs and risk. Lastly, in some districts, third party solutions are perceived as threats to the status quo and associated budget allocations for less efficient internal processes. In reality, a third party parent notice solution typically saves cost while also augmenting existing resources to enable them to spend their time and budget on more impactful student and parent facing initiatives.
Lack of time. Running a school district is no easy feat, and most administrators will tell you that there is never enough time nor funding to implement all the desired programming and communications. Working in education is demanding. From ensuring students receive proper accommodations to acquire content knowledge, to maintaining their own qualifications, there's never a break. And without guidelines, support, and a clearly defined pathway, implementing compliant parent notices can easily get pushed to the back burner indefinitely, despite having such an enormous and costly legal risk to districts for doing so.
Perceived lack of consequence. A prevailing challenge of successful implementation is that a state or district has not faced consequences for noncompliance in the past, so why take the time to execute a seamless parent notices communication strategy now? The truth is that if a state or district is found to be noncompliant regarding U.S. Department of Education or Civil Rights requirements, they will be held to corrective action to fix the problem. In extreme cases, federal funding is withdrawn until the state or district reaches a solution. This can be stressful and time-consuming.
While noncompliance is certainly a critical concern and risk factor, the overall costs of a poorly planned and executed parent communication strategy result in much more impactful consequences: lost dollars that could be spent furthering success in the classroom and a failure to actively engage all students and parents in a way that serves as a foundation for achieving sustained and long term academic achievement.
Invest in a compliance partner
The most proactive course of action is to adhere to the law from the outset, and engage with a parent notice solution provider for your state or district. Not only will you avoid noncompliance, but you'll become more familiar with current federal legislation and empower your district staff with best practices and the tools needed to build better parent engagement while reducing overall cost.
TransACT® is the nation's sole source parent notice compliance partner, offering a definitive suite of standard and customized content and guidance solutions for states, districts, and schools of any size. States and districts partner with TransACT® to achieve compliance, to stay up-to-date with federal regulations, and to better communicate with families in English and all home languages about important topics.
To make the most of the TransACT® Parent Notices solution, be sure to consider all the resources available, including:
An ESSA/ESEA Compliance Collection with federally mandated parent/guardian notifications written by federal compliance experts and available in your priority languages.
A GedEd Collection with a library of documents about topics from Health & Medical to School, Office, & Classroom to Free & Reduced-Price Meals.
An IDEA 2004 Collection with forms for IEP Meetings, Disciplinary Forms, Private School Consultation Forms, and more.
A Section 504 Collection with forms available in English and Spanish for special notices, referrals, and nondiscrimination policies.
District Masters, a feature focused on storing and distributing specific state or district-mandated communications, ensuring better accountability with organized, quality communications.
Diagnostic and prescriptive "Roadmaps" to guide staff and district leaders to better define their standards and methods of accountability when determining necessary forms for students and parents.
Custom Form Translation options for unique communications or languages when standard translations are not enough.
Learn more about creating an effective parent communication strategy by downloading our ebook.