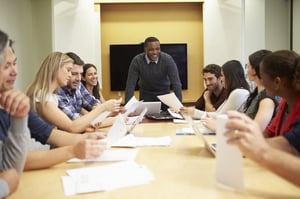 Shortly after his inauguration, President Trump put a hold on a number of regulations that hadn't gone into full effect as yet, including the ESSA accountability regulations. The hold will last for 60 days and give the Trump administration until March 21, 2017 to rescind, change or allow the regulations to go into effect.
On February 1, 2017 the U.S. Department of Education (USED) sent an email to State Education Agencies (SEAs) informing them that they were pausing their efforts to provide technical assistance to SEAs in the development of ESSA accountability systems. The email says, "In light of the delayed effective date of the regulations, the Department will temporarily pause its technical assistance efforts . . . to help ensure that the Department's technical assistance reflects the results of the Administration's review of the regulations."
The email goes on to encourage SEAs to use the "additional time" to engage stakeholders in the development of new accountability systems and the implementation of the requirements of ESSA. What is unclear from the email is if the 17 States that indicated they would submit their ESSA State Plans on April 3rd should move forward with the development of their plans for that submission date. With the accountability regulations and USED's technical assistance paused until March 21st, this leaves less than three weeks until that submission date. The email finishes with a promise to provide additional guidance in the near future, so hopefully this issue will be addressed.
It is important to note that this action has no impact parent notices. TransACT is committed to keeping up with what is happening on the federal education level and reporting to you any impact that these actions might have on parent notices.
If you have any questions or would like more information, please contact us at 425.977.2100, Option 3 or email at support@transact.com.