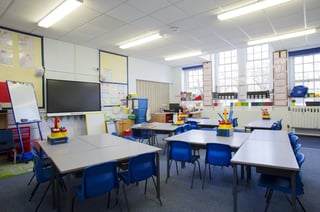 In the often-siloed world of education, district leaders can lose sight of how performance in non-academic metrics can affect student outcomes.This reality exists despite research showing a relationship between positively trending operational metrics and student success.
Operational key performance indicators (KPIs) that may influence student success include student meal participation, on-time transportation performance, safety, and infrastructure condition. District leaders who monitor these KPIs and put their students in a position to succeed from an operational standpoint can also expect positive trends in academic achievement.
Below, we examine four operational KPIs that have a measurable impact on student success.
Meal Participation
Well-fed students have sustained energy and therefore, learn more easily. According to a study by the Centers for Disease Control, student participation in school breakfast programs correlates with increased academic grades and standardized test scores. Districts with lower test scores or less-than-favorable academic outcomes should consider examining meal participation rates to better understand student achievement.
KPIs to review in this category include breakfast and lunch participation rates (calculated as meals served divided by the number of school days) and the number of students receiving free and reduced-priced meals. These operational KPIs have potentially meaningful and measurable influence on academic achievement.
Read about other Food Service KPIs in the Annual Performance Report from CGCS.
Building Condition & Maintenance Order Completion
Quality and well-maintained infrastructure also potentially impacts student achievement. Buildings kept clean and in good condition are more conducive to learning than poorly maintained facilities. According to a study by the Council of Great City Schools, students in deteriorating school buildings score between 5 to 11 percentile points lower on standardized achievement tests than students in modern buildings.
Studies have shown that the cleaner a facility is, the better the student outcomes but when districts face budget shortfalls, cost reductions are often made by adding more to what custodians have to do or by cutting staff. Measuring custodial workload, or the number of square feet worked by a custodian, can help determine the proper staffing level. District leaders should also examine the cleanliness of a building using the APPA's cleanliness guidelines or use surveys to gauge the cleanliness of a building like this one.
In a related example, extended maintenance work order completion time potentially correlates to psychological or practical effects on students, including students feeling undervalued or unable to use certain equipment or technology effectively.
Suspension & Expulsion
By tracking suspension and expulsion metrics school districts learn how many students miss crucial time in the classroom for disciplinary reasons and gain insight into the overall student climate at a school site.
In the State of California, over a two year period (2012-13 to 2014-15), the total number of suspensions and expulsions were reduced by 170,276, or 30 percent. This trend was led by a reduction in defiance incidences but most other categories saw a reduction. Click here to view our infographic.
KPIs to track in this category include the number of suspensions per 1,000 students, safety and security spending per student, and the reasons for student expulsion (bullying, violence with injury, drugs, etc.).
Transportation
Tracking transportation KPIs yields financial benefits as well as student success correlation. Operationally, an older fleet of busses costs more to operate and maintain. More specifically, studies show that when a bus is just one year younger, the cost-per-route of that bus reduces by $100.
As it relates to student success, students need to be at school on time to maximize academic achievement. A link to receiving breakfast also exists: students who get to school on-time are more likely to participate in school-provided breakfasts prior to the start of the academic day, and are therefore set up for optimal learning.
School districts that silo their academic and non-academic KPIs miss valuable insight into all of the forces which are affecting academic performance. Determine how to best allocate resources by evaluating and leveraging all available academic and operational data in an effort to free up funds that can ultimately serve students and improve their success rates.
Learn more about how TransACT's solutions can help your district track KPIs and enhance your student success initiatives by downloading our benchmarking report.