COVID-19, also known as the Coronavirus, has shuttered schools across the nation and forced the education of students to move to an online or distance learning methodology, endangering equitable access to educational programs for many students, especially English learners. This pandemic has caused disruptions in many areas, including meeting compliance requirements related to communicating with parents found in federal education laws, including the Every Student Succeeds Act (ESSA).
Providing communications to limited English proficient (LEP) parents in a language they understand is still required by Civil Rights laws. How to deliver those notices has become significantly more complicated as teachers can no longer send notices home with students. Some languages have alphabets that are extremely different from the English alphabet. The non-English alphabets don't tend to display correctly or display at all over some electronic communication mediums. The potential inability to deliver compliance-related communications to LEP parents is of great concern.
Good News! There are resources that can help provide written communications to parents in a language they understand.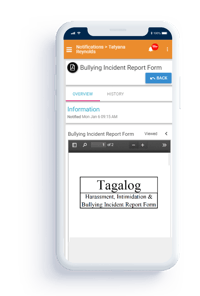 TransACT ParentNotices can deliver compliance-related communications to parents in a language they understand directly to mobile devices such as smartphones and tablets, as well as laptop and desktop computers.
LanguageLine Solutions is a global leader in translation and interpretation services, offering over the phone interpretation where needed.
The shift to distance learning has caused disruptions in other areas of education, often because schools and districts understandably weren't prepared for a total shutdown of schools - this is especially true when it comes to educating specific groups of students. A recent Education Week article about ELs and remote learning outlines some of the concerns and lack of preparedness with regards to our educational systems to handle educating ELs at a time like this. Many organizations and education agencies have risen to the challenge and are offering guidance and resources to help with issues related to educating ELs online. More resources for ELs in a Distance Learning Environment:
Follow TransACT on your favorite social media platform to be the first to know when new resources are shared: