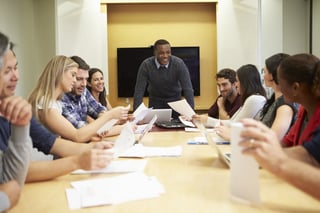 School business officers have the difficult task of maximizing return on investment (ROI) while creating the financial conditions to put the most money in the classroom.
Business officers can streamline this potentially time-consuming and resource-intensive process by tracking certain key performances indicators (KPIs) that provide insight into their districts and an opportunity to increase operational efficiency while prioritizing student success.
Tracking these five operational school performance indicators can help business officers create the right conditions for success:
1. Paychecks Processed per FTE per Month
Most school districts pay their employees on a regular basis through an automated payroll process but many others operate an inefficient payroll process. A sample from 50 districts in ActPoint KPI revealed that the median cost for a district to produce a paycheck is $3.59, with labor costs being the number one cost driver – up or down.
To better understand the payroll process, business officers can track efficiency of the payroll process through the Paychecks Processed per Full Time Equivalent (FTE) per Month metric. Lower processing rates often result from low levels of automation, high pay check error rates or high rates of manually processed off-cycle pay checks. Gaining insight into the payroll process can provide business officers clarity into areas where automation or technology may streamline processing.
2. Food Service Costs as a Percentage of Revenue
A district's food service program provides vital fuel for students who need it the most. A food service program Gauging the financial performance and of a district's food service program can help business officers effectively allocate resources and balance their budget.
To gain perspective into food service performance, business officers can track the program's costs as a percent of revenue. Districts that keep expenses lower than revenues can build a budget surplus for reinvestment back into the program – including capital replacement, new technology and other improvements. Districts with expenses higher than revenues may either be drawing from their fund balance or subsidized by the district's general fund.
3. Custodial Workload
Students focus more on learning in clean school environments. According to a study by the Council of Great City Schools, students that attend school in deteriorating buildings score between 5 to 11 percentile points lower on standardized achievement tests than students in modern, maintained buildings.
Business officers should aim to properly distribute custodial workload while balancing budget requirements with the needs of a district's student population. Measuring custodial workload can both achieve this balance and determine proper staffing levels.
A low value could indicate opportunities for improved efficiencies as compared to districts with a higher value, which could indicate a more well-managed custodial program. Studying custodial workload on a site-by-site basis can provide insight into optimal workforce distribution.
4. Bandwidth Usage per User
Technology plays an increasingly important role in school districts' operations. Many states and districts have transitioned or are transitioning to online testing. In addition, many districts store critical management applications, including curriculums, student information and financial processes on cloud-based systems and therefore require a constant, reliable internet connection.
Without adequate bandwidth, students cannot learn or take tests efficiently and teachers and administrators cannot access the tools they need to teach and manage effectively. Additionally, if districts exceed their normal bandwidth usage capacity, internet service providers may require the purchase of additional capacity to meet demand.
Tracking bandwidth per user and comparing connectivity allows school business officers the opportunity to determine proper usage capacity for their district, maximizing educational efficiency and ROI.
5. First-Day Teacher Vacancies
Establishing expectations and setting the tone for the rest of the year on the first day allows schools to make a lasting impact on both students and budgets. Nowhere is this more clear than in the classroom.
Classrooms that start the year without a full-time teacher can fall behind schedule, which possibly affects student outcomes. Substitute teachers (and in some extreme cases, administrators) are put into challenging academic scenarios without a lesson plan in place. These substitutes essentially act as placeholder until a full-time teacher can provide a comprehensive lesson plan. Therefore, tracking and limiting first-day vacancies can ensure the highest probability of student success.
Evaluating KPIs can help determine how to best allocate district resources and improve operational efficiencies, as well as student achievement.