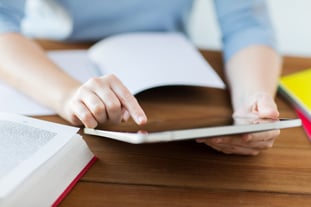 Businesses, schools, and homes across the country have been moving away from their reliance on paper for decades. For a long time, the paperless technology that made this possible for every day people seemed like a luxury that smaller government and civic boards couldn't justify.
As technology has become more accessible, it has become apparent that the benefits outweigh the costs, and you can't afford to miss out. Here are 4 reasons that conservation districts are going paperless.
Walking the Talk –As stewards of your state's natural resources, reducing the unnecessary use of paper supports your district's efforts to conserve resources for future generations. Using less paper demonstrates your commitment to improved governance and stewardship of both financial and natural resources.
Save Time – Instead of printing documents, distributing them, updating with notes, reprinting and storing them, your document management system is as simple as clicking 'save' and 'send'. Gone are the days of collating, stapling, distributing, and searching through filing cabinets.
Better Access – Increased public focus on conservation is a great thing – most of the time. When it comes in the form of increased public records requests and research, it can put an enormous burden on your time. Going paperless with

eConvene Paperless Board Meetings means that you can increase public engagement by publishing the required documents easily to a customized board website.
Reduces Costs – A reliance on printing

costs organizations over $200 per person per year. Multiply that by the amount of people in your office, and you'll find that ink, paper and maintenance costs alone are a reason to migrate to the digital world.
The truth is, there is no reason not to consider going paperless. eConvene Paperless Meeting management is a user-friendly solution for every level of tech-user, and the most affordable service available.